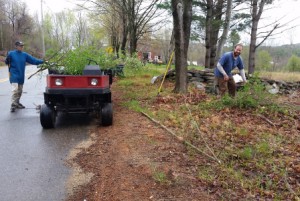 The dedicated volunteer crew didn't give up despite the periodic rain showers on Saturday. Thanks to Becky, Paul, Owen, Jason, Denis, Josh, Bill, Darrell and Cynthia so much work was done in four short hours. Everyone who passes by the Frohloff Farm on Church Street in Ware will benefit from their tremendous efforts.
Seven bags of trash (plus other stuff) were gathered along this stretch. We were amazed at how many recyclables and returnables were blithely tossed out the window! Hopefully travelers will notice the difference and wont toss their unwanted items any more!!
The biggest difference people will notice are the walls exposed by cleaning out the brush and downed limbs. Several small dead trees were also removed. This summer animals will graze in the field closest to the road so travelers will get to experience the farm a little bit closer than before. One of the key reasons for conserving this property was to revitalize the farming and build a healthy farm. Each year this vision comes closer to reality!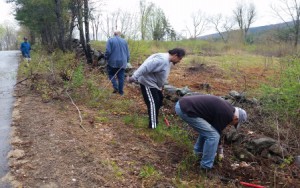 Also, the final step in creating the burn breaks along the bluff were completed. Jason, Owen and Cynthia did the final step of raking out the three-foot line the forms the perimeter for the prescribed burn. Some time in May or June an eight acre area along the Ware River and former railroad bed will be intentionally burned. The goal of burning off the leaf and duff layer is to provide a quick flush of nutrients for the surviving vegetation and help to control unwanted vegetation. In this area there are lots of common buckthorn growing, which is an invasive plant. Plus white pine will take over if not kept in check. The pitch pine and sandplain grasses growing in the area will be stimulated and hopefully will expand the number of plants because of the burn. This is another step in our wildlife habitat management plan began several years ago with the removal of twenty acres of trees and multiple treatments to control invasive plants.