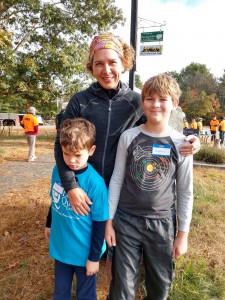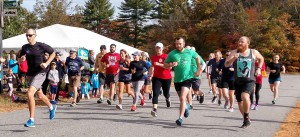 The sun was shining and families came out for the 8th Annual Station Loop Ramble! In some cases it was the parents cheering on their youngsters; in other cases is was the youngsters cheering on the parents; and there were a number of families where everyone was running or walking. With many choices, there are lots of options! Whether it's one mile, 5k or 5 miles, there's something for everyone.
There are so many people to thank for having a terrific Station Loop Ramble. First, is the participants and their families. Second, is the wonderful group of volunteers that plan and run this terrific family-friendly event. Third, are our corporate sponsors, including the Gold level sponsors: Atlantic Capital Strategies, Senator Stephen Brewer, Hardwick Sugar Shack. The Silver level sponsors: Bell & Hudson Insurance, Rose 32 Bread, Kip's Christmas Tree Farm, Raitto Engineering, Craig Della Penna – Realtor, Hardwick Kiln, and Country Bank. The Bronze level sponsors: Lost Towns Brewing, Flexcon, Barton Associates, Landry & Meilus, R.N. Glidden Landscaping, Reed's Country Store, E.P. Wine, Quirk Wire, Sherman Oil, Hardwick Farmer's Coop, Cornerstone Bank, Dunkin Donuts Ware, and Hannafords. Fourth, are the donors of prizes for the runners, including: Hardwick Farmer's Coop, Petersham Country Store, Angel Nail Salon, Komenda Apiary, Dunkin Donuts Ware, Mexicali Restaurant, Big Y, Subway North Brookfield, Barre Gazette, Hardwick House of Pizza, Claudia Broschart cookies and Clover Hill Farm. Fifth, we had a special appearance from Senator Anne Gobi, who gave two gift subscriptions to the National Geographic Kid's Magazine as a special prize to two young runners. Thank you Anne!
Below are race results for the Kid's One Mile, 5 mile classic and 5k run/walk.
Kid's One Mile
First Name
Last Name
Time
Timothy
Rodier
6:39
Carlee
Rich
7:29
Matthew
Peabody
7:34
Mason
Peabody
8:27
Catelyn
Rich
8:47
Ellen
Barkoskie
9:38
Sam
Payne
10:31
Penny
Ouimette
10:50
Calia
Rich
10:37
Quinn
Ouimette
11:01
Rosie
Cogoli
13:12
Nick
Barkoskie
13:19
Alise
Rodier
13:39
Finn
Barkoskie
13:45
Addison
Rodrigues
13:45
Caden
Charron
14:37
Clara
Cogoli
15:58
Cora
Wangerin
15:58
Sadie
Ouimette
15:58
Sadie
Cogoli
18:02
Ellie
Robbins
18:08
5-Mile Classic
First Name
Last Name
Town
Time
Matthew
Twarog
Hubbardston
29:57:00
Erik
Trudeau
New Braintree
38:45:00
Clayton
Degnan
Barre
38:52:00
Jan
Shillieto
West Brookfield
39:44:00
Brian
Farmer
Ware
39:64
Ed
Hood
Hardwick
40:04:00
Michael
Groner
Barre
41:56:00
Audrey
Snay
West Brookfield
42:45:00
Maggie
Payne
Rochester
43:51:00
Kristine
Rodrigues
Wilbraham
45:51:00
Pam
Clark
West Brookfield
46:08:00
Nicole
Keleher
New Braintree
46:17:00
Sarah
Howe
Paxton
46:27:00
Eric
Howe
Paxton
46:03:00
Elaine
Dill
Monson
46:41:00
Polly
Currier
Sturbridge
47:01:00
Robin
Langer
Hubbardston
47:04:00
Jim
Rutherford
Ware
52:29:00
Helen
Januszewski
Oakham
52:03:00
Holly
Wielsma
Spencer
52:54:00
Emily
Glaubitz
Worcester
54:02:00
Brian
Laramee
Oakham
54:21:00
Brett
Ouimette
Gilbertville
55:15:00
Tad
Currier
Sturbridge
57:23:00
Doris
Farmer
Ware
67:33:00
5K Run/Walk
First Name
Last Name
Town
Time
Matt
Peabody
Phillipston
16:03
Aden
Rigali
North Brookfield
24:22:00
David
Maher
North Brookfield
24:36:00
Craig
Charron
West Brookfield
25:59:00
Connor
Snay
West Brookfield
26:39:00
Gene
Rich
Gilbertville
26:40:00
Emma
Wilk
27:36:00
Collin
Wilk
28:02:00
Mark
Kablack
New Braintree
28:11:00
Colleen
Gary
Brimfield
29:16:00
Eric
Snay
West Brookfield
29:31:00
Lynne
Feldman
Petersham
31:00:00
Justin
Gary
Brimfield
31:13:00
Martha
Degnan
Barre
31:15:00
Evan
White
Hardwick
31:15 (minus
Lynne
Wangerin
Barre
31:46:00
Bryan
Wangerin
Barre
31:47:00
Leah
Trudeau
New Braintree
35:26:00
Dave
Broschart
West Brookfield
36:51:00
Ken
Snay
West Brookfield
42:24:00
Claudia
Broschart
West Brookfield
42:58:00
Jennifer
Laramee
Oakhan
44:43:00
Elizabeth
Larramee
Oakham
44:43:00
Kristen
Bock
Ware
45:25:00
Jody
Kablack
New Braintree
53:31:00
James
Larramee
Oakham
54:19:00
Daniel
Larramee
Oakham
54:58:00